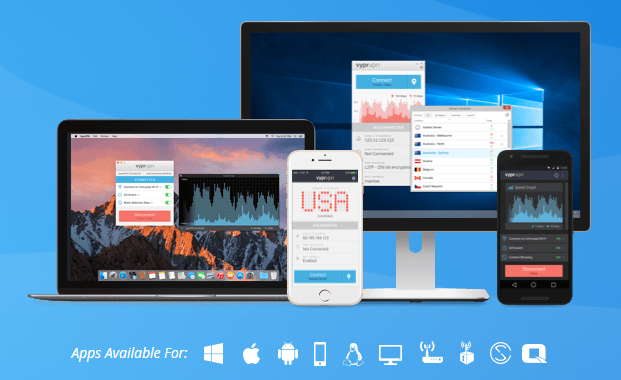 VyprVPN encrypts your internet browsing – securing your online activities while tunneling your traffic through choices of VPN servers. The beauty in using an app like this is that it does not reduce your speed, unblocks websites & content plus it's super easy to use. Let's discover if this is the one and only VPN app you'll need in this post!
VyprVPN helps to get around blocked websites and content by essentially changing your IP address of your device. It goes way farther by encrypting your internet connection as well. VyprVPN is simple to use. Create an account. This service is offers a 3-day free trial and monthly fee of $9.95. The app is available for download on Google Play Store.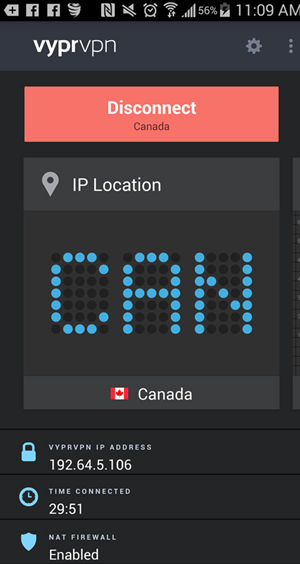 After your account is setup you can simply tap the "Connect" button and it will tunnel through the nearest VPS server to your location. Optionally, you can choose from a multitude of global servers to connect to at no additional cost. I highly value that the app does retain fast internet speeds (see my connection speeds below of before and after while connected to my WiFi in Chicago and the VPS in Canada).
While connected there are a few monitoring tools within the app such as speed graph to color-code your average speeds, a connection log, plus a popup window to show transferred speeds and time connected. I performed a few DNS tests to ensure the app would indeed conceal my true public IP address and it does so without hitch.
The only issue I found with VyprVPN was that I could not get a working internet connection on T-Mobile's network with a Galaxy device unless I were either;
Connected to WiFi.
Went into advanced settings and changed my connection type from T-Mobile's IPv6 network to IPv4.
GoldenFrog, the creator of VyprVPN app, was extremely helpful in assisting us in resolving this issue. The problem happens in some circumstances for T-Mobile's mobile data and Galaxy devices specifically. T-Mobile will often give IPv6 addresses for their mobile data which can cause issues with VyprVPN's service as they lease IPv4 addresses. Here are instructions to fix…
On some devices, you will be unable to edit your T-Mobile APN, however you can create a new APN by clicking the + sign on the APN screen and using the following settings:
Name: T-mobile (or easily identifiable name of your choice)
APN: fast.t-mobile.com
MMSC: http://mms.msg.eng.t-mobile.com/mms/wapenc
APN type: default,mms,supl
APN protocol (choose one): IPv4 or IPv4/IPv6
Overall VyprVPN has all the qualities you need of a good VPN app; it encrypts & secures your browsing, alters your IP address to get around location restrictions, there are plenty of servers around the world to choose from, and their bandwidth speeds are fast. At the time of review we could not successfully connect on mobile data with ease, however, their helpful support assisted with pinpointing the problem and offered solutions. It's less desirable to experience this issue and the need to perform advanced settings tweaks in order to remedy. If you are not experiencing this issue then kudos to you as the app is awesome otherwise. I would still encourage you to download and try it now!
Related Posts